Ah, winter 1977. Sadly, neither of us Cerebloggers had yet been born, and so we cannot nostalgically recall what it was like when Cerebus first came out, only that it was a long, long time ago. I say this not to make anybody feel old, but to emphasize the scope of Sim's accomplishment: Cerebus would subsequently go on to run for 26 years, a marathon that Sim refers to as "the longest sustained narrative in human history."
I'm not entirely sure I'm ready to concede that, but neither can I refute it, so let's just agree that the accomplishment was tremendous. In 1977, of course, Dave Sim didn't know this. He was just a creator ekeing out his first issue, with no sense of how anyone would respond — if at all. As he says in his afterword:
"Primarily, you are producing your product in the dark. You have no idea whether it is going to succeed or fail. You look around at all the publications similar to yours and mark the differences as pluses and minuses in the hopes that the equation will work out, that you have figured correctly, and that the market is just right for the type of comic book you are about to introduce."
Fortunately, he says that at the time, there was "a big demand for sword and sorcery and for funny animal books." What a lucky confluence! No, really. That's pretty convenient if you just happen to be planning a comic about an aardvark warrior.
Our first ever glimpse of Cerebus in the pages of the comic offers an image quite unlike the aardvark we will later come to know: His snout seems freakishly elongated, his overall appearance cartoony, and he looks a little like he got his head stuck inside a set of six-pack rings while doing a side split off his horse.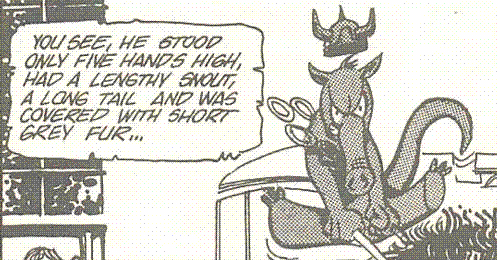 It's kind of like going back and watching the pilot of any long-running tv show, where all the characters are acting weird and telegraphing their personalities in broad, two-dimensional strokes because they haven't found their footing yet; they don't really know themselves. Nor does Cerebus, yet, and so we all go about the process of learning it.
To ward off what I will call the inherent "cuddle factor" of being a funny animal, Cerebus is quick to establish his ruthlessness by stealing a page from the cantina scene in Star Wars (released two months previous), and slicing off the hand of a tavern ruffian. While the hand is still pumping blood on the floor, the barkeep gets all speciesist and tries to deny Cerebus service, an act that seems very foolish in context, but momentarily establishes Cerebus as an Aardvark in a world that hates and fears him.
As Leigh says, the freak/persecution angle is handled somewhat unevenly, and is best chalked up to Sim finding his footing in a comic with some pretty weird juxtapositions, and not knowing yet exactly how or whether they would to be acknowledged inside the comic.
Sim's narrative is most compelling during the more elaborate battle scenes, which adhere to fantasy tropes but have an animated, almost poetic cadence: "The heavy blade sliced the gloomy air and crashed against the aardvark's blade as Cerebus backed up the shadowed stairs… like a blinding flame, the steel flickered and slashed in front of him…"
As with many of the early issues, Sim is in full-on Conan/Red Sonja satire mode, and all your favorite fantasy and D&D conventions are here: shadow monsters that melt into darkness when defeated, wizards projecting hallucinatory dragons, and my personal favorite, skeletons with swords.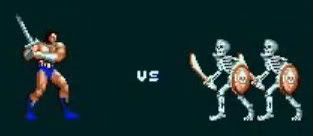 In that context, Cerebus is best described an aardvark with exceptional spell resistance, a propensity for rolling natural 20s, and multi-classed to boot: "Though I was born to be a warrior, the ways of sorcery are not unknown to me."
In the introduction to Cerebus #1, Sim says, "If I had known what I was letting myself in for, I never would have started." And we all would have been the poorer for it, which is why we're usually better off focusing on the next step we have to take, and not the next 299. The best part of beginning anything is not knowing exactly what's going to happen, but being willing to find out.
Next week: Issue #2, Captive in Boreala!